Have you ever think about to become a YouTuber, or want to publish a video with great and beautiful animations. Intro with different titles of animation. so this best video editing software for YouTube for video post is for you.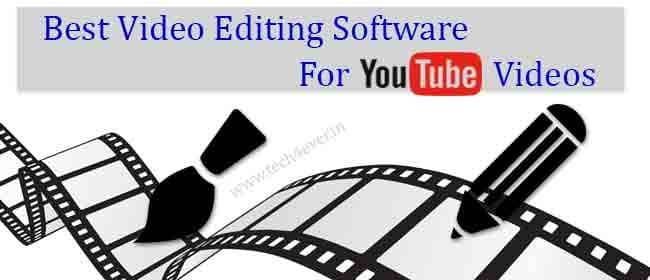 The best video editor for YouTube is not a cup of tea, so before download and purchase it you have to learn the basics of the software functions and tools. Don't worry For your kind information, you can learn any software's tools from Youtube videos.
Here I am not listing much software like others blog, you will find best and easy to use Video editor software in this post. Don't be confused – that's why included some powerful yet easy to use the software here.
Many Video editing Softwares are available in the Internet market, with the free or trial version and same software with the Pro version. If you are a beginner then just try and learn from a trial version.
Many best video editing software for YouTube brand provides Android, IOS and Windows platform. And some provides only for PC or Laptop, According to this, you should choose multi-platform video editing software.
In the Google search, you will find many sites and blog, who provides crack versions of video software. One thing is noticeable in these sites that you can not directly download your video editor perhaps they send you with the new link, that can be malware and easily can harm your computer.
I mean to say, you should try a trial version of the software and if you want to continue with that so just purchase and go for a long run. All the Best video editing software for YouTube available with different prices and plans.
In a trial version of any video editor software, You get a watermark on your videos after exporting the file. Even many best video editor software applies a big stamp on overall video and this is annoying. That's why If you are going to export videos for professional work use Pro version.
You can also buy animations and video effects files separately from the software store center. Many more things included inside the software – sound, background, animations effects, Fonts and transitions for voice and video.
List of best video editing software for YouTube
KineMaster For PC
List of best video editing software for YouTube
The Wondershare Filmora Video Editor is available for Smartphone and PC both platform, I think this is the best premium yet easy to use video editor on the market. You can choose 3 plans and get this on PC or Smartphone.
If you choose trial version so they give same as pro experience for 30 days only with full support, After 30 days you have to buy this from any of the 3 plans. If you are using MAC so also you can install it easily and on the window as well.
In this best video editing software for YouTube, will get many transitions, fonts, effects and many tools to control and edit the video without any hesitations. Of course, you can learn basics from YouTube platform because this is the most famous software among the best.
This is the best video editor for those who are not tech-savvy and also who is because this is the one where you can find all the tools and effects easily. Believe me, guys just try the trial version for taste and surely you will love this.
The Filmora Pro has an inbuilt tool called 'green screen editor', which basically lets you make big changes or edit anything available subject in front of the Blue and green screen. This can change overall all the video background as well.
Read More: Best whiteboard animation video software
Read More: Best 13 free best sites to download free movies
I like the software which can run on both platform whether that is Smartphone OS or Computer, And Cyberlink PowerDirector 17 Ultra is the one of the best video editing software for YouTube videos. Which made for both platform.
Most of the Youtubers use this on the smartphone, see if you are getting easy to use interface, many transitions, effects, background and also you can edit your video as you want. So don't need to go with another video editor. Also, the pro version software price is low compared to others.
The Cyberlink company is a settled brand and provides updates easily with super stable performance and fixes bugs with every single update. The best video editor for youtube supports many file formats and the best of this video editor which is rendering speed is very fast.
You will get a 360-degree, 3D and 4K editing capability, Motion tracking, Multicam editing, and Screen recording while editing as well. The minimum requirement is 2 GB Ram and 10 GB space of the hard disk. Which is fairly enough.
The best video editing software for YouTube videos supports multi-languages like English, French, Spanish (European), Japanese, Korean, Chinese Simplified, German, Italian, Chinese Traditional, Dutch for multi-country users.
KineMaster For PC
This video editing application and software comes in front of its opposition with respect to its proficiency. In this way, in case you're the sort of individual who has been searching for the best video editor for youtube videos, your pursuit finishes here.
It has a simple and appealing User Interface which makes it simple for anybody to comprehend the controls. The editing and menu tools are very easy to use. This is available for both Smartphone and PC. isn't it cool? you can use it from anywhere else on your smartphone.
The simple and great thing of this best video editing software for YouTube is, that you don't need to learn much about this app, the over software experience is very smooth and easy to use. Anyone can operate this and edit the video easily.
Go from this link KineMaster For PC  and here you find all the details and full tutorials for step by step installation guide. Which is very simple and also download the App on smartphone and enjoy.
This is the big video editing software for web, film, TV,  And This new version of Adobe Premiere Pro brings more stability and great performance. If you are an enthusiast so this is the great option to edit videos with buttery smooth performance.
The best video editing software for YouTube videos supports all the format from any camera and any platform. Which means you have limitless editing area. I am using it for many years and they also support in every single problem if you are facing any.
In this video editing software, you will get all the tools and effects with many transitions, also lots of effects, transitions available online so, you can download and install as a preset and use them.
All the background is changeable, sound editing, font editing adding extra video, images or songs layer and also you can control transparency via tools and make your video better and more attractive. The best video editor for YouTube videos works in an offline and online mode both.
Also, Adobe premiere pro available on Android and Apple store, so you can easily install from there and whenever and from wherever you want. Many tutorials are available on youtube to clear basic knowledge.
Adobe premiere pro supports all the format while rendering the video, so this is the best option for those who want export videos for many platforms with their right fitted aspect ratio. Also the rendering speed id quite fast and smooth.
Want to Just quick transform your ordinary videos and photos in stunning moves and extremely well-polished video like movies. The coral VideoStudio Pro 2019 is the best way to create your dream and make them true with a video.
The best video editing software for YouTube videos comes with many 1500+ creative effects and transitions, which makes your video story extra advanced and more expressive than normal ordinary shooting. Also, the new version of this software has more filters to makes it more creative software.
Nowadays most of the software has many advanced features and attractive design, but they are not providing easy to use tools and interface. Which the best video editor for YouTube video Coral VideoStudio Pro has.
Easy to use interface and editing Tools just clear some basic from given tutorials on Youtube and official website and you will ready to rock. The best video editor for youtube videos supports HD, Full HD, 4k video also you can edit 360 videos in virtual & any format.
You can record video live while editing also supports voice recording If you are making any tutorials regarding editing. Directly share your video online like Youtube, Facebook, etc, or export to desktop, Pendrive, etc.
The best part of the video editing software is, you can make a slideshow of photos and video too. Just add background music for more appealing slideshow or video. if you are comfortable with sound quality so you can edit it as well.
The Vegas Pro 16 is an advanced video editing software for anyone who wants to video editing in the next level. The most advanced video with audio editing in every single frame you will get in this Vegas Pro 16.
The best video editing software for YouTube video has a hamburger menu system, which means all the tools easily findable and all the user interface is very easy to use. The timeline editing tools which is known for Vegas Pro makes video editing very fast and stable.
The best video editor Vegas Pro 16 comes with GPU accelerate rendering, Which means the Vegas software harness the power of GPU from industry-leading popular graphics cards and makes rendering very fast without any hang issues.
Have you experienced 8K video yet? If yes and want to edit 8K video so, don't worry this best video editing software supports all the HD, Full HD, 4K, 8K, and 360-degree video format and also you can export videos in all the given formats.
Vegas Pro gives you lots of animations effects, motion tracking feature, background, complete HDR color support and better stabilization than the older one. Just try it you will not disappoint in any way, also they give worldwide support via mail or phone calls.
Conclusion-
The List of best video editing software for youtube videos is fully secure and updated version, which gives you an ultimate experience with full customer support. All the best video editor for youtube comes with all the main feature and stability.
Just choose plans according to your need and knowledge, Please comment below if you have any question about Video editor.
Thank You Have a nice day 😛
Read More: Best Customizable Launcher for Android with Unlimited Themes
Read More: How To Do Autoscaling in Kubernetes?