I am making a list of Best Customizable Launcher for Android with Unlimited Themes and icon packs, which is very interesting and features packed. so please read carefully and try at least once for better smooth user interface experience.
If you are here, then surely you are loving to customize your smartphone and love to change your Smartphone's interface daily. for your kind information yes I love to do that, and now here I am going to list Best Customizable Launcher for Android.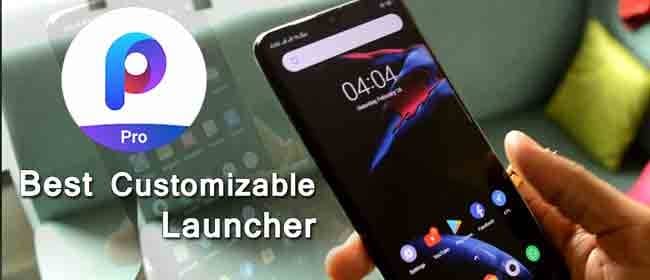 In these launchers, you will get all the settings and customization options, which can change your smartphone's interface totally. the most important thing is these best Android Launchers can work on almost every android smartphones and tablets.
All the smartphone companies make their user interface very customizable and also they provide themes center, icons packs, wallpapers, and fonts as well. but many times we get bored because of the speed of the system launcher and limited themes and icons.
In this situation, the best solution is Best Customizable Launcher for Android and this is very simple to install on your smartphone. all the best Android launcher available in the play store and all are free of cost.
List of Best Customizable Launcher for Android

6. CM Launcher 3D
Details of Best Android Launchers
Currently, I am using this POCO Launcher and Highly impressed with this best Android launcher, you will get everything in this launcher whatever makes it best customizable launcher of 2019.
The POCO launcher 2019 comes with app drawer feature and also you can customize app drawer according to your needs and wish. in customization it flexible you change the app drawer background color in white and black, also you put transparent.
With help of Best Customizable Launchers for Android Keeps your app private from the app drawer, just go to app drawer and swipe 2 times from right edge to left side, and it will open a separate window where you can hide your apps.
The POCO launcher known about speed and cleanness, the performance of this launcher unbeatable because of the optimization of the launcher is very smooth ultra fast.
You can search your apps by name and also one option is very unique in this Android launcher which is Apps search by colors. Download more than 100 icons pack free of cost from Play store and change day by day according to your taste.
You can watch my full review of this POCO launcher in Hindi
Nova Launcher is the most famous launcher in the play store and should be because you wish and find that setting in this Android launcher. This launcher is best for versatile home screen replacement, which is great.
The best customizable launcher for Android supports all Android smartphones. just go to play store and install it and set as a default launcher on your smartphone. that's it your customization travel has begun with crazy and decent features and settings.
You can download themes with new icons and color full background because of the best customizable launcher for  Android phone supports theme center with more than 1000 of themes and wallpapers and icons as well.
The app drawer with Vertical or horizontal scroll you will find in this just amazing all in one setting you will get in this best customizable launcher for Android smartphone.
If you love dark mode (Night Mode) and dark themes so, it supports this feature and also can set the specific time for automatically enable this feature according to time zone. Thanks to the backup and restore feature, Moving from phone to phone so just back up and restore on another phone.
In performance wise, this is extremely fast and smooth also you can change the animation for fast and smooth swipe and gestures.
Read Also: best whiteboard animation video software
Read Also: Best printer for home use under 5000
Microsoft Launcher is very well known launcher in Android play store, the Microsoft Corporation gives you take advantage of the super speedy launcher. Also, you will get some extra features that not available in another launcher.
In this best Android launcher gives you an option to put your most important contacts on your home screen and also can pin in one touch and can put anywhere in screen or folder.
Have you ever experienced Cortana assistance? in Microsoft products, so here you can use it as a digital assistant The Cortana Assistant can read your unread messages and also can tell you the calendar updates.
The best customizable launcher for Android comes with PC connect feature, which means you can connect your phone with your PC and take shots and see on the big screen of your PC. Also Microsoft Launcher's universal search bar available for the one-click search for all the offline and online contents.
Performance wise this will not disappoint you, also Gesture customizations are available in this best launcher, like double tap to lock your phone and swipe up for app drawer and more.
This Solo launcher comes with many multifunctions and also has many cleaning features, that can save your memory. security features are there to protect your phone from unwanted uses.
The best customizable launcher for Android provides security features like Cleans cache to boost speed, clears storage for saving memory. also, this can speed up your phone for a longer duration.
The Solo launcher provides you more than 100 themes to get a daily new experience of a user interface and can install many icon packs and wallpaper as well. in this best launcher, you can set your photo on your app icons, are you excited for this?
In this best Android launcher, many gestures are available which can make super easy to use experience for everyone. also, you can search for everything from one search bar whether that is offline or online searches.
As you know the best customizable launcher for Android comes with many security and cleaning features, it means you will get an ultimate performance.
The Apus Launcher 2019 is very well in customization with many themes and icons, also the best launcher provides you a great feature that is hiding the app. in this APUS launcher you can choose themes category wise.
The best customizable launcher for Android comes with 1000 of themes and you can search from names like fashion themes, technology themes and more. which makes this launcher unique because many themes are available free of cost.
Beautiful wallpapers and eye catchy icons can change your phone looks and make an old phone as a new device. 50000 + wallpapers you will get in this launcher and many times get happiness with most eye catchy icons.
The best launcher comes with hiding apps and lock apps feature, which can make extra secure your Android phone. so now don't delay just download it take advantages.
Also, get quick search, latest news and smart folder with this best customizable launcher for Android and make your phone super fast and easy to use with many advanced features. the app drawer is the best way to find all the apps in the same layer.
6. CM Launcher 3D
The CM launcher 3D is the best high rated launcher in the play store, and why not this best launcher has all the features and settings that will love you in every single use. also, they provide updates frequently.
This best customizable launcher is different from other launchers because this comes with 10000 + 3D themes and 2d icons pack, and 3D transition effects. also, many live wallpapers are available so, you can download and make your phone extremely beautiful.
This CM launcher comes with hiding apps and locks feature, it means you can secure apps from unwanted use. also hide app with passcode feature makes it extra secure. just hide the app whatever you want.
The best customizable launcher has one quick search bar, so you can search all the offline, online content from one click. it makes your experience easy to use and very fast. also, from boost, your smartphone option is there for finding the best speed.
The best Android launcher comes with many features that make it extra advanced and also you should try at least because you will find many things in 3D technology that is would be interesting for you.
Conclusion –
Thes are the best customizable launcher for Android, with available many themes and icon packs, which makes these best Android launcher different from stock launchers. in my opinion, you should try at least for more advanced features.
Please comment below if you have any doubts
Thank you 🙂 Have a great day-
Read Also: Best fitness app for health
Read Also: How to Boost Smartphone