Are you really want to know the truth about Smartphone Camera vs DSLR Camera and then choose any, I want to know too so why wait let's get started. Common guys, we are not here to only read the essay, even this topic is very demanding these days. So please understand the main point of the uses.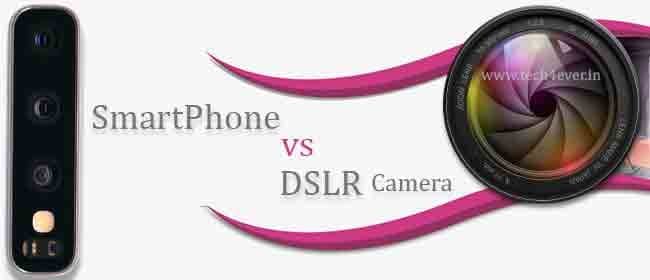 It is a very subjective topic, many people like handy and compact device which can almost do everything in day to day task like, image clicking, video shooting, documentation, editing image/videos and uploading on a social platform.
Mentioned above all the things can be done by a camera smartphone because these days smartphone comes with multi-setup cameras, powerful processor, a huge display, monster battery power with fast charging technology, etc.
If this Smartphone Camera vs DSLR Camera Topic is subjective, so we have to take a look in both segments of the device so let's talk about a DSLR camera. I am not saying a camera smartphone is going to be the best in every type of camera lovers, because a DSLR is the choice for a professional job.
In case if you want to learn photography or videography so, ask any video or photography expert they all suggest you the best DSLR camera with their multi-lens setup package, and why not do your customization with your won way and click an image or shoot the video in a very professional way. This type of work done only by a DSLR and their particular lens setups.
Smartphone camera
I remember about smartphone cameras and using since 2007, It's a huge upgrade in the smartphone industry till now. Even you can say that these days smartphone users buy the smartphone to see the main few things, and the camera is the one.
If you see the smartphones camera lenses, so day by day it is going bigger in micron size and recently 48 mp camera sensor had  1.4µm (micron) pixel size. Also in the near future, 64 to 100 MP camera will be coming in 2019 -2020 and it will be very interesting.
Many Brands are providing camera sensor for smartphones company, but Samsung and Sony are at the top. Recently launched all the best camera smartphone comes with Sony IMX 586 sensor which provides 48MP resolutions image.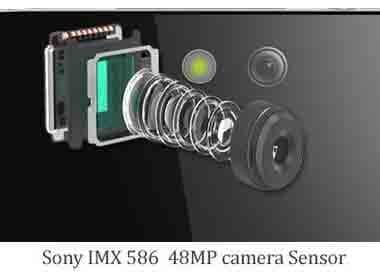 Usually, this sensor takes a photo in 12 mp resolution, but if you want to click 48 MP resolution image so you have to on this mode separately and it works in picture binning technology and gives extra sharp images with more details.
DSLR camera
Let's talk about DSLR camera, DSLR camera starts from above 20000 Rs in India. Comes in different range and different sizes with different lens units. Whatever you want to see in your images that called DSLR camera.
The DSLR camera can capture images very sharp and accurate color because of big micron pixel size sensor. If you choose a DSLR behalf of an expensive smartphone so you will get a better camera result than a smartphone camera in all the aspects.
If you are a true photographer or videographer then you have no option, The best DSLR with the multi-lens setup because they can give the better result in all the aspects. Whether your field is wildlife, sports, fashion or movie making.
This is not the end guys DSLR is a DSLR but here the story going to be different in many points. Personally, I like the best camera smartphone with multi set up cameras. Which can create effects like a DSLR because I am not a professional video or photographer.
Few points to choose A smartphone camera vs DSLR
here I am mentioning a few points, why to choose the best camera smartphone behalf of a DSLR if you are not a professional video or photographer.
Easiness 
The smartphone is a very compact device than a DSLR, you can carry anywhere and your smartphone always with you. Carry in your pocket a smartphone is very cool but can you carry DSLR in the pocket no never.
Easy to open camera application and click or shoot the video and photo any time without any hiccups. A DSLR wants to be setups like a lens, battery fitting, memory card, and the main thing is desired settings.
The lightweight and compact camera smartphone can do everything whatever you want to do like internet surfing, calling, video uploading on video platforms and all-rounder things. A DSLR gives you the ultimate experience for video and photography only.
Overall I can say that if you are that kind of person, who can not manage and carry heavy gadgets, and don't take photo and videography as a professional than choose best latest camera smartphone because that can fulfill your requirement.
Read More: How to Start a YouTube Channel with Zero Balance
Read More: Best 4k action camera under 10000 Rs 
Power management 
In the power management system, Which is good buy smartphone camera vs DSLR camera? This is a very important point because Digital product runs on digital power.
These days DSLR camera comes with good power management like charging dock, battery capacity but they also consume a lot of power than a smartphone. Here if we talk about a smartphone battery then The monster battery-packed device best camera smartphone can beat a DSLR in power management. Nowadays almost all the smartphone budget to flagship comes with monster battery 4000 mAH to 6000 mAH which is huge.
Playback
This is the point which is subjective DSLR also comes with a LED screen but A smartphone comes with big and different types of a display so let's read the war of Smartphone Camera vs DSLR
Are you love to watching content on a big screen, everybody loves it. A camera smartphone comes with a huge display to watching full HD videos, songs and also playing games.
Including video chat, now we can say a smartphone is very versatile in all the field or section. This can manage anything and all types of work also can do with this like making a resume, sending Emails, taking interviews from anywhere.
After taking many shots and videos shooting, imidate you can manage your file and watch your video on a big screen. Which is automatic build up your work at the next level.
Sharing 
In this section of Smartphone Camera vs DSLR camera, Sharing is the main and demanding point because of in these years all the business person and profession use their social marketing strategy.
Sharing is caring, In this era, nothing is growing without share and of course, you also share many things on social networking sites and apps.
After taking pictures you can share via many social apps like Instagram, Facebook, Twitter, Pinterest and more, but this is possible via a smartphone. A DSLR takes images but you have share images and videos after transfer the content in a smartphone or laptop.

The easy thing we love and a smartphone makes many things easy to use whether that is location sharing, location finding, video or images sharing, document sharing and many more little and big things you can do via a camera smartphone.
Editing
Simple in this section of Smartphone Camera vs DSLR camera, editing is an important factor. Any video or image taken by a camera smartphone can be directly edited via the smartphone App. DSLR image and video have to transfer to other devices like a smartphone 0r laptop for editing.
If you ever used editing apps on your smartphone, then surely you can understand the point. if you are using your smartphone as a video camera for your YouTube videos then you have to edit your content before publishing or upload a video.
Instagram is the most famous platform to share small video and images and gets million and billion followers. Is it that simply taking an image and share, nope you have to do many editing things before uploading an image. When your content not looking beautiful nobody can follow you and share your content.
Also, a good thumbnail is a must for a YouTube video to ranking the video easily. This can happen via a camera smartphone because many thumbnails maker apps are available on play store for free. That's why I like a camera smartphone which makes all the work super fast.
Conclusion
This is a great topic Smartphone Camera vs DSLR camera which should you buy? and I have explained everything about uses and why and for whom, which is good.
If I say a camera smartphone and a DSLR is a different class of product, both are not the same. A professional photo and videographer use both gadgets because a smartphone can do all the things which can not a DSLR. A DSLR can capture professional high-resolution images and video, a camera smartphone can't capture professional extremely high-quality images.
If you are a professional than obvious choose The best DSLR for your work experience, and you are a casually taking photos and videos or for YouTube videos so choose the best camera smartphone. It's almost perfect for this.
---
Here I am going to recommend some Best DSLR camera for your work –
If you have a bug of Photo & Videography then surely you need the best DSLR with lens setup. Many brands are available in India market. Sony, Nikon, Canon, Fujifilm, Panasonic, etc and all the company provide their full package of DSLRs & Lenses.
---
If you are going to buy the best camera smartphone so please choose the latest one and also do some study about the latest, because many smartphone companies launch their budget to flagship camera smartphone in every month.
Read More: Best Camera for Youtube under 40000 Rs in India
Read More: Best video editing software for YouTube for video