Are you traveling to another city to work and looking for Best Cheapest hotel Deal Apps to book an inexpensive hotel room to stay? Here I am going to make a hotel booking apps list, where you will get the best hotel rooms deal with a hassle-free room booking in a minute.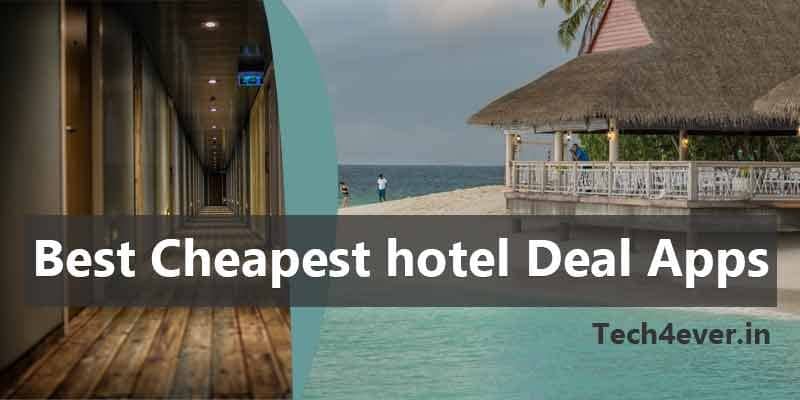 These are very easy-to-use applications of hotel booking and also you can customize them according to your needs. Most of the apps provide any kind of accommodation whether that is an OYO room, big resorts, 3 to 4-star hotels, and 5-star hotels as well. When you search for a hotel room can customize via filters, and get a room with your likes. Also, here room is available via price filter and accommodation type.
Here is the list of Best Cheapest hotel Deal Apps
Booking.com –
is one of the best hotel apps to book any range of hotel rooms, I travel a lot and always booking a room from booking.com because they provide Genius levels where you will get more benefits and discounts too. The user interface of the app is very easy to use, for better search results they provide filters where you can decide, that you want a room with breakfast included, a swimming pool, bathtub, and many more filters.
In the list of Best Cheapest hotel Deal Apps, this app is superiors because of great communication via Email and contact number. After booking they immediately send an email about confirmation and you can contact them for early check-in and late check-out. Most of the hotels provide pay-on-cash at the property option if you are worried about prepayment. After completing the booking you can pay via cash, card, or credit card as well.
Agoda.com –
This is another excellent hotel booking app with a very easy-to-use UI and provides very fast searches. Agoda is very friendly if you travel frequently to different cities in India, the better part of the site or app is clean. For flight tickets, you don't need to go to any other website just see the column of flight and search flight and date with destination name and book a cheap hotel room and flights both at the same place.
Agoda is a big dealer in hotels booking, they deal on outside of India countries. If you are planning to go outside of the country then of course you can book a minimum to a maximum range of hotels, resorts, and rooms through this website or app. This is one of the Best Cheapest hotel Deal Apps available on the Google and Play store and the IOS app store as well. These are the dealer who also, provide long stays in any country and city.
See for beginners and pro users they treat equally and give a great treatment, for the maximum range of bungalows, apartments, private villas, and vacation rental houses they are providing us with some discounts. Also, you can cancel your bookings according to their policies.
Read Also: Best Customizable Launcher for Android
Read Also: Best sites to download movies free
Trivago.com –
Such a great app and website is available in the play store and on Google where you can book a hotel room in any country and city without taking much time. Find a great place at a cheaper price to stay, is not that tough because Trivago is here with maximum discount. Nowadays all the hotel chain listed their hotels in Best Cheapest hotel Deal Apps and websites because maximum people want the discount and book a hotel room or resort instant.
They accept payment via credit card, debit card, wallet before booking in some regions but also, they provide cash on stay in few cases, it depends on their policies and somewhere hotels owner provide for cash at the property stay. The app and website UI is very clean and easy to use, they deal in other country stay accommodation and provide the best stay at the best price. If you want to stay in an apartment also, can booking your desire place.
Hotels.com –
As above listed this is another great hotel booking app, where you can book hotels and apartments according to your needs. They deal with Resorts, Apartments, Hotels, Guesthouses, Hostels, and Ryokans at the same time just see the images and video gallery of your desire hotel and rooms then confirm your booking. The easy-to-use UI and clear interface make this Best Cheapest hotel Deal Apps superior.
Just go to your destination and book an instant a room or resort, you need to just enter a check-in date and check-out details and guest details mean how many people you will stay with. Also, if you are the owner of a property where you want to take chance to open proper hotel rooms and provide great services, then surely you can log in and list your property with proper details they check all the details and will approve your listing.
Here is the list of the top 3 Best hotel Deal Apps
Yatra.com
MakeMyTrip
goibibo.com
These are the top branded apps that provide flights tickets bookings, hotel stays bookings in a proper manner and also most of the customers prefer these apps because these are the great and largest chain in the world with proper certifications and a huge circle of over the world. Al the top 3 hotel booking apps come with a very easy-to-use UI and very clean interface of apps and website where easily anybody can book tickets and hotels if you have to knowledge about smartphone only.
Conclusion –
The above listed are the Best Cheapest hotel Deal Apps which are great in every segment and the top 3 hotel and flight ticket booking apps are great in a premium range of apps. Now it depends on you which apps of hotel booking are suit you if you wanna a cheaper price of hotel, apartments, and resorts stay you can search according to your needs in any app and compare prices within all the apps and book your room and enjoy.
Read More: Best sites To Download PC Games Free
Read More: Best Freelancing Website in India