If you are searching for a multi-ports charger Adapter, which can charge your devices at the same speed, then amx XP 40 USB charger with 4 ports is the best option for you as well as 1 year of warranty.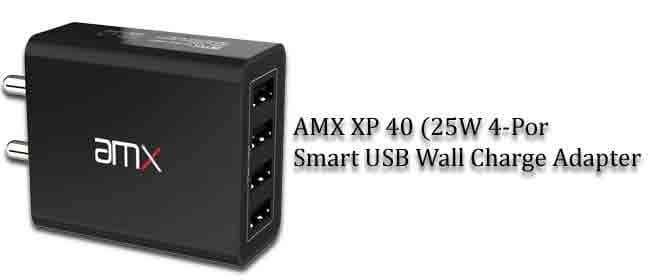 If you are a traveler and work with many gadgets like power bank, mobile, notebook, wireless headphones, and many more rechargeable gadgets. You need to charge them quickly and at the same time, so the solution is a multi-ports Charger Adapter.
When you carry many devices with you so many times you can forget their respective chargers. Due to heavy work, many times all the devices discharge at the same time but in this amx XP 40 USB 4 ports charging Adapter you have to carry only one charger with you and charge multi-devices.
amxindia.in is the company that makes power delivery accessories like C-type to C-type, Micro USB cables with multi-length options, multi-ports fast charger Adapters, and audio accessories too. In the meantime, I will provide you a link to buy the best charging cables with a lifetime warranty.
Let's Talk about 

AMX XP 40

USB charger
I am using this amx XP 40 USB charger 4 ports Adapter with respective amx A to Micro USB, USB 3.1 Gen C-type to C-type, and A-type to C for 6 months and I got a great result. With the support of these cables can charge your device from 2 meters of distance from the plug point.
Charging Technology
Like this, You can charge multi gadgets at the same time with the help of amx XP 40 USB Adapter. It comes with 4 USB ports with amx flash charging technology. Please don't be confused with Qualcomm's quick charge because it is a different technology and this amx XP 40 does not support the Qualcomm Quick Charge.
Read Also:
Best Fast Charger amx XP 60 USB-C PD Charger and Infiniti X Cable Review
amx Infinity Fast charging Cable with Lifetime Warranty Review
amx One X in-Ear Earphone with Mic Review
The amx flash charge technology delivers the best possible charge per port up to 2.4 Amps, and if you charge multi-device at the same time so you will get result same or 5 Amps overall charging capacity. In simple words, the best fast charger Adapter amx XP 40 USB charger provides you a maximum of 25 watts of power for 4 ports Simultaneous and can charge 4 devices at the same speed.
Construction Quality
The best fast amx XP 40 USB charger multi USB port Adapter comes with Premium material build and Components. Remember one thing the build quality matters in every aspect if you will get premium features at a lower price then surely the build quality will bother you.
I recommend please go for better-constructed gadgets with premium features because I believe in ruff and tuff lives. If you spend once then you not regret it for a longer time, for those who buy a cheaper product they suffer for damages and have to buy another one.
BIS Certified
BIS Certification tells that the product is very safe for uses, Bureau Of Indian Standards first test the products many times and check them that these are safe and easy to use. If products are faulty and not safe for use then they denied.
Warranty
Like all the branded gadgets, they give 1 year or more warranty period from the date of purchase. This best fast charger USB Adapter comes with 1 year of warranty. You can contact them via email support@amxlabs.in they revert you with a possible solution.
If you want so can contact them on Whatsapp number 09354225928, and ask them about your query.
Packaging
If your concern is after ordering this amx XP 40 USB charger, how they maintain packaging then need not to worry because they cover their accessories in the foam material then AIR Bubbles WRAP and corrugated box packet with color printed particular gadget information and name.
After all packaging the accessories packet you will get inside a big corrugated box then the above mention packaging information.
Conclusion
Don't be think twice I am using this amx XP 40 USB charger and this is the great accessories in the charging sector with the great build quality and gives what they promise. If you are a gadget freak and using more gadgets then surely take one chance to buy it.