This is the post, where I am going to give you AMX One X in-Ear earphone with Mic Review, which is great build earphone in this 599 Rs price segment. Also, In-line remote control gives you all the premium experience while listening to music.
On the online market many earphones available in this price segment and at a cheaper price but the design and Build quality matters that's why I choose this AMX One X earphone with multi-functions in-line remote.
In 2020 I have seen people are crazy about wireless gadgets where a wireless earphone comes first but in my opinion, a wired earphone with multi-function remote, great build quality with tiny mini design earcups is better than a wireless earphone and why? please read the below-listed regions.
Few points should notice before placing the order
Charging problem – If you are very busy in your work and have to go outside urgently want to listen to music via traveling or going to walk in the park and you are in a hurry so a wired earphone provides music services as it as. In the wireless earphone, these points are not for that.
You have to charge wireless earphones if the battery is discharged and that is not a cup of tea for me because many gadgets like smartphones, the laptop have to charge before leaving my home.
Read More: Best earphone under 200 Rs
Read More: Best Earphones Below Rs 1000
Connectivity & Pairing – Wired earphones have a 3.5 mm jack plug so just connect and listen to your favorite songs but in a wireless earphone, you have turned on the earphone and searching Bluetooth devices like smartphones and pairs with that and connect.
In connectivity option this wired AMX One X in-Ear earphone is best for me, and what about you just comment below and tell me…
Let's talk about the design of this best earphone under 1000 Rs
The drivers designed as in-ear design but I feel very similar to capsule design, The ergonomically designed drivers impressed me the drivers are very small, shiny and look very cool in shiny black color. The drivers are made of metal with a magnetic effect that gives super experience. See the below image ⇓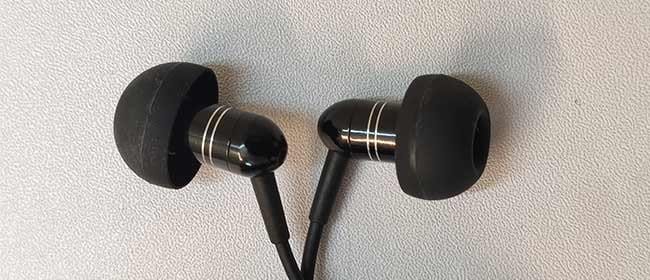 Just below you will get a metal device for both wires of the earpiece, the cable quality is also very nice with rubberized finish, which provides a smooth and solid grip and the wire made tangle-free implies doesn't make a difference how recklessly you put it in a pocket or convey pocket, you will never get an entwined rope.
The in-line remote made of solid ABS plastic with inbuilt functions To volume levels, managing calls control music, and play or pause songs button input and a microphone, the functions button gives a solid clicky feel and during calls, the microphone delivers clear crystal voice and catches your voice clearly.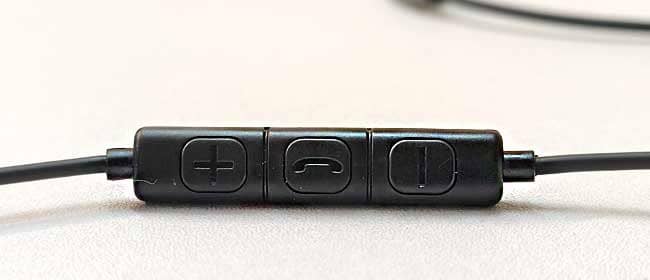 Gold plated 3.5 mm jack – Yes the 3.5 mm jack made of gold color and the upper part made of metal that looks very premium and also enhances music quality.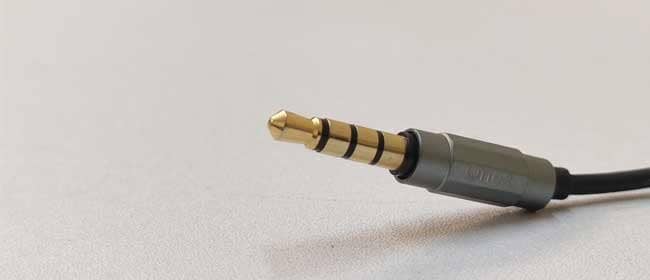 What is in the Box?
In the box of AMX One X in-Ear earphone, the company provides you a super cool and premium round shape zipper pouch, which costs almost 180 to 200 Rs on Amazon and Flipkart. I am surprised by the quality of the pouch zip because of a little pouch with this kind of premium zipper, not bad amxindia.in.
When you open the pouch in the first section you will get an earphone in the packet and in the second section 2 pair drivers earbud with different sizes, which is very convenient for different ear sizes.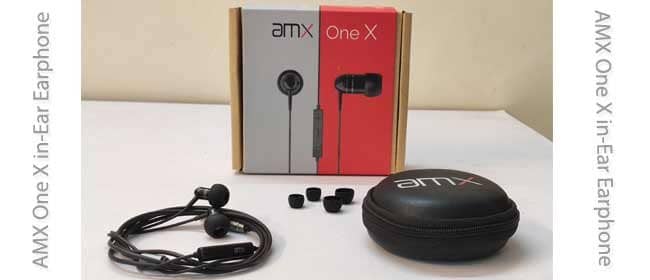 Performance of AMX One X earphone
The overall performance of this AMX One X in-Ear earphone is good at this price, the used 6 mm drivers give clear crystal vocals and you can listen to every single word of song track. Songs with high bass you will feel bass in the low margin.
If you are listening to a song with low bass that is annoying sometimes because of poor bass quality, this means this is not a high bass lover. this is for those who love to listen to music in clear notes and want to experience only smooth and Sufi music.
Conclusion – 
As I said this AMX One X in-Ear earphone is the budget segment earphone and you will get all the premium parts in this AMX One X in-Ear earphone with Mic, everything is fine and solid like metal drivers with magnetic touch, gold plated 3.5 mm jack, metal finish driver's cable divider and tangle-free wire.
These qualities and build like premium earphones you will not get under 600 Rs earphone so, one thing I want to say if high bass does not matter for you so surely go for it because of its clear crystal vocals, definitely you will enjoy simple and soft songs in this.
The AMX one x earphone comes with a 1 year of manufacturing warranty, and they deliver very good services if you are facing genuine problems with your AMX products.
Buy Now from Amazon.in – AMX One X in-Ear Headphone
Buy Now from amxindia.in – AMX One X in-Ear Headphone
Read More: Best Bluetooth Earphone Under 1000 Rs
Read More: Best Wireless Headphone Under 1000 Rs