In this post, I am going to give you a full and explained AMX Infinity Fast charging Cable Review. This fast-charging wire comes with 1 meter (3.3 feet) and 2 meters (6.6 feet) long length and a lifetime warranty* and in this case decided to review this AMX Type-C USB 3.1 Gen 1 to USB-A Cable.
I remember one of the previous posts mentioned AMX fast PD Charger and Infiniti C-type to C-type cable. Still, C-Type to C-type cable does not fit in every normal charger adaptor because of C-type input presents both sides.
Due to compatibility with all wall chargers, I am going to review a Best Fast Charging Cable that can easily fit on every mobile adopter AMX Infinity USB-A to USB-C Cable to charge your smartphone without any hassles. Even in this cable, you will get a limited lifetime warranty as well.
Also, many cables are available in the off and online markets but in this price range, this is the best fast-charging cable under 500 Rs in India in terms of durability, looks, material, and brand warranty.
Why use AMX AMX Infinity Fast charging Cable
If we talk about uses and whom to use these kinds of cables so here I am going to mention very important points about this Type-C to USB-A cable. Which can help to buy great accessories for your smartphone?
Read More – Best Fast charger for Smartphone Below 1000 Rs
Durability – Yes this fast-charging cable comes with TRILAYER CONSTRUCTION which means the material used for durability is Nylon Fibre that is Abrasion Proof for long-term use without compromising performance.
Certified connectors – The USB connectors are Implementers certified with the help of many test companies promise to us that this AMX infinity QC 3.0 fast charging cable easily survives about a minimum of 10,000 cycles of 90-degree accidental bend
Protection – Yes this is made of a proper copper layer of internal material so it insures your device against overheating and fluctuations, it also, gives more stable fast charging than normal material.
QC 3.0 Support – I know this matters a lot when your charging adaptor supports QC 3.0 but remember, if your charging cable is low quality and does not support fast charging like QC 3.0, you can not take fast charging experience properly.
Data Transfer in Speed – Due to Multiple Sheathing and the material used Copper Foil in this fast charging cable so it minimizes data Signal interference and gives compatible devices of Maximum Data transfer speed of up to 5GBPS.
You know in this era speed is everything whether that is laptop speed, smartphone, or any type of data transfer because all types of work do via gadgets and technologies these days.
AMX Flash Charging Tech – This AMX Infinity Fast charging Cable has 22 AWG tinned copper wires construction that delivers a 20% faster charge than normal USB cables. As I told you earlier this is built with Q.C. 3.0 technology that gives 3 AMP maximum current to charge every Q.C. 3.0 supported device like Smartphone, Smartwatch, etc.
Cable Length – AMX Infiniti USB-A To USB-C Cable comes in two variants one is 1 meter and another one is about 2 meters, you can select what you want while purchasing the AMX Infinity Fast charging Cable.
Warranty – This is the best fast-charging cable that comes with a hassle-free lifetime warranty, just you have to contact them via provided email address and they will surely help you.
Also, you can return it if any problem is faced after delivery of the product because they provide a 10-Day No-Questions-Asked Free Returns policy.
Buy Now –

amx

india.

in
AMX Infiniti Micro USB Cable
If you are using devices with a micro USB plug type then also they provide Infinity micro USB Best Fast Charging Cable. This AMX Infinity Fast charging Cable comes with the same features as the listed AMX Infinity USB-A to USB-C Cable.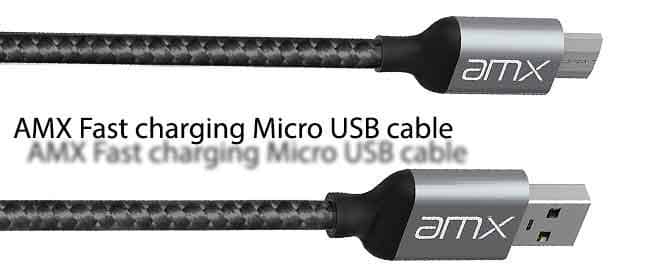 You will get all the features and build quality same as C-type cable the only difference between these cables is the charging speed and data transfer speed due to C-type and Micro USB type and the difference is just a little let's see the specifications of differences –
| | |
| --- | --- |
| AMX Infiniti Micro USB Cable | AMX Infiniti C-type USB Cable |
| 2.4 Amp maximum current | 3 Amp maximum current |
| Data transfer speed up to 480 MBPS | Data transfer speed up to 5 GBPS |
| All are same  | All are same  |
Conclusion – 
If you are really want to buy a solid and durable Best Fast Charging Cable which can help in saving time in charging your smartphone and transferring the data very speedway so this AMX Infinity Fast charging Cable for you.
If you have any questions about this AMX fast-charging USB cable, feel free to ask and comment below.
Have A Nice Day 😎 Thank You
Read More – AMX XP 60 USB-C PD Charger and Infiniti X Cable Review
Read More – Best wireless charger under 5000 Rs