Are you passionate about the study or your mind working at the night for writing articles or completing your important projects, and searching for the Best Smart Table Lamp Under 3000 Rs in India?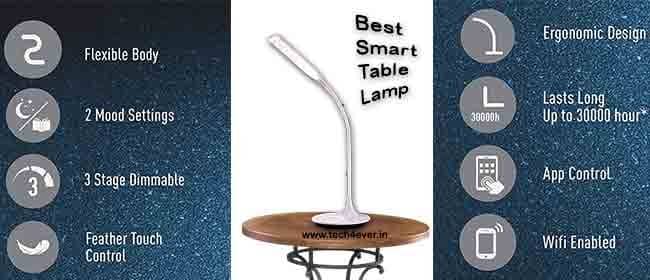 I know after reading this above lines, you gonna to ask me, what is smart table lamp? and how it works? So, don't worry I am going to review Syska TL-1007-I 7W Smart Table Lamp which works with Amazon Alexa and Google Assistant as well.
Yes, this is the best smart table lamp under 3000 Rs which is beyond the limits, In this article, we will read the full specifications and review of this Syska TL-1007-I 7W Smart Table Lamp.
The Syska smart table lamp comes with plenty of settings and mode, also you can adjust their light mood according to your needs like warm light, yellow and white light.
In this era, the technology and gadgets growing very fast and we are accepting this, whether we are kids, younger or Old age people. without new technology, many most important works cannot be done.
Just take Amazon Alexa and Google Assitant both are working with the voice command, which is a human's new innovation, and with these types of gadgets, you can control almost all the devices which are compatible with Alexa and Google Assistant.
Let's Talk about the best smart table lamp Syska TL-1007-I
Design and Build
The best smart table lamp under 3000 Rs Syska TL-1007-I comes with a flexible body and designed very ergonomically. The lamp pillar can bend where you want and helps in reading without more time to waste in setting the lamp head.
The build quality is superb and made of durable material which is last long and can stand very well at the exact place on the table. and easily fits on any size of study or computer table.
You can take it anywhere around your home or room and put The study LED smart lamp on the bed, garden area, lobby, on the roof as well.
Read More: Best 4K smart TV Online
Read More: Best Smart Bulb under 2000 Rs [Works with Alexa & Google]
Touch Control System
The best smart table lamp comes with touch controls panel which is very responsive so, you can operate via just fether touch. All the control easy visible and controllable like the light color, connectivity, and light mood.
Dimmable stages
The Syska best smart table lamp supports 3 stages of brightness which you can easily switch brightness levels with the given fether touch button that suits your needs, and this is not creating any sound.
Settings
The smart LED  table lamp comes with 2 mood setting, which allows creating a warm ambiance whenever you want to relax and the 2nd one is Reading mood which creates super brightness for reading, which can very helpful in reading in the night.
Different Colour Temperature
The smart table lamp light is outfitted with a shading changing technology which allows you to change the shade of the light at 3 temperature levels warm white, Yellow, and white. 3000K~6000K are the shading temperature range.
Lamp life
Normal table lamp bulb comes with almost 1200 hours of life, and a CFL lamp can survive almost 8000 hours but But this best smart table lamp truly survives at least 30,000 hours. means it will survive about 4 to 5 years because in a year has about 8700 hours so, you can imagine the life of this best led smart table lamp.
Alexa and Google connectivity
The best smart table lamp under 3000 Rs comes with wireless connectivity option that can allow connecting with Amazon Alexa or Google Assitant devices. From this feature, you can control the brightness, and mode of this table lamp without touch the touch panel.
You can also control the power supply of this best Syska smart led lamp via Amazon Alexa and Google Assistant device through your voice.
Instant on
Some table lamp reacts slowly when you switched on the button and also taking some more time to get full brightness. This best smart table lamp gives you a maximum level of brightness after you switch on the button.
This technology helps in instant reading if you are in hurry and want to read something important so, just switch on the Syska smart table led lamp and fulfill your wishes.
Low Energy Consumption
Glowing lights take considerably more power than CFLs. Be that as it may, CFLs take undeniably more power than LED lights. Actually, on the off chance that you supplant a radiant or CFL light with a LED light.
Now get the Syska TL-1007-I and save your electricity bill because this comes with the electricity saving technology and also this is LED lamp so automatically consumes 90 % less power than CFL's.
Wattage
The best smart table lamp under 3000 Rs equipped with 7 watts of power taking technology, but gives you the full light around your table and you will never disappoint with this Syska led lamp.
App control
The best smart led table lamp comes with a dedicated Syska app, and in which you can control all the features via the direct app, without touch the control panel of the table lamp.
Warranty
The best Syska lamp comes with the 2 years of warranty, which is cool enough for an electronic product so, if you have any complaint about the best smart table lamp then you can contact the service center as a reliable customer.
Syska is the best brand in consumer electronics they make power banks, lights, trimmer, shavers, and many more electronic items. and provide the best services.
 Conclusion:
If you are Looking for the best smart table lamp under 3000 Rs in India so, this is the best option and you will not be disappointed in any way. it works well and connectivity option like Amazon Alexa and google Assitant is available.
The most important part is the lamp life than I would say this is the best smart table lamp in India, which provides you flexible use and also gives you 2 years of manufacturers warranty and 24*7 customer support as well.
The final verdict of this best LED smart lamp is yes this is the best buy without any doubt.
Read More: Best smart plug under 5000 Rs in India
Read More: Best Smart door Lock with fingerprint under 5000 Rs