If you are looking for Top 5 Tech Gifts For Students under 10000 Rs so you have landed at the right place. Here you will find great 5 tech gift ideas with impressing details and buying link.
Gadgets are everyone's love, and mostly these days kids are very demanding and want to enjoy many useful gadgets with their friends, and family. Gadgets are not only playable or enjoyable even from new technology gadgets our kids learn many things like basic computing, the latest trends of technology how to use the machine, and many more things like all the basic to mid-level of machine mechanisms.
Remember those days when had sawed the first time a computer, video games, even I played many video games in that times contra, Super Mario, Aladdin, WWF fight and many more games and learned about how to play games and these days don't have to much time to play games but many hours in a single day I spend in a front of desktop means machine and learning period goes on and on.
Maybe the above-written paragraph is not a perfect example to set in every person's life. but in the late 90's to early 20's we all saw amazing new gadgets which had impressed us, and to buy the tech product we have to suffer many things like going to market and asking in many shops ( how crazy was all that 🙂 ) but now everything is a cup of tea all the latest technology we have and our kids as well.
Technology is everywhere whether the study sector, sports sector, living sector, or where you are going to find a technical way to treat ourself. That's why I recommend ( Top 5 Tech Gifts For Students under 10000 ) Rs a great way to gift to kids and believe me a tech-related product will always bring a smile to the face of that kid who finds a Tech Gifts by you.
Top 5 Tech Gifts For Students under 10000 Rs
1. Fujifilm Instax Mini Link Smartphone Printer
Fujifilm Instax mini link smartphone camera is the best choice to gift to students, I know few people always prefer the non-technical product to gift to a kid. Look, kids always love to play sports, enjoying birthday parties, and with the help of a smartphone printer they share instant pictures with friends and also keep that as a memory. It is one of the best from this Tech Gifts For Students under 10000 Rs list.
It is also, be used as a study tool, yes kids often get homework by writing an essay with attached subjects' live pictures. So the best tech gift gadget helps to create the whole project easily. Just you understand the process that newer gadgets are very helpful in daily life and as subjective purpose as well.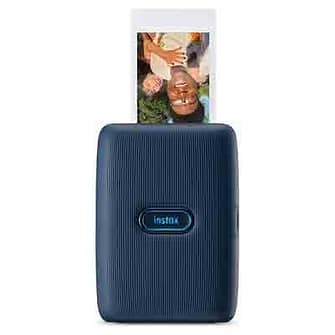 Specifications of Tech Gifts For Students under 10000 Rs
Brand –  Fujifilm
Batterie –  required and (included, Rechargeable)
Max Print speed Monochrome 12
Max Printspeed Colour 12
Paper Type Glossy photo
High-Quality Printing Output
An internal array of OLEDs Printing Technology 
Maximum printing size 3 x 5 inch
Max 100 Input Sheet Capacity
Bluetooth connectivity
Plastic Build
Has Self Timer
Item Weight is 209 g
Check Price – Amazon
2. Wacom CTL-6100WL Bluetooth Pen Tablet
Examine better ways to deal with getting innovative with Wacom Intuos Whatever you love to make, Wacom Intuos can help you find better ways to deal with a draw, paint, and modify your photos. It's not hard to course of action and use, and up to three uncommon imaginative applications are fused for you. If you are searching for Tech Gifts For Students under 10000 Rs then it is the most obvious choice.
To get your free freebies program you need to sign in or make a Wacom ID and register your Intuos. A number of open programming depends upon the model. Revive your innovativeness, cautiously Our latest pen tablet advancement has been planned for the people who are drawing, painting, and photo changing with their Mac or PC curiously. Whether or not it's the light super-exact pen, the smart arrangement, the clear game plan, or the applications and online instructional activities, Wacom Intuos is all you need to get creative cautiously.
Make what you need, the way where you need However you apparently convey, there's a Wacom Intuos for you. A creative pen tablet that is arranged through and through around your energy, gives you all the contraptions you need to improve your ingenuity. Likewise, its versatility and comfort infer you can change Wacom Intuos to oblige your own specific way of working.
Whether or not you love to paint digitalized watercolors, draw manga art or add a scramble of magic to your photos, you can tailor Wacom Intuos to suit your style, your heading. Get creative reliably Getting started is energetic and basic. Just interface the pen tablet to your Mac or PC through USB, download and present the driver, complete the straightforward selection and you're good to go.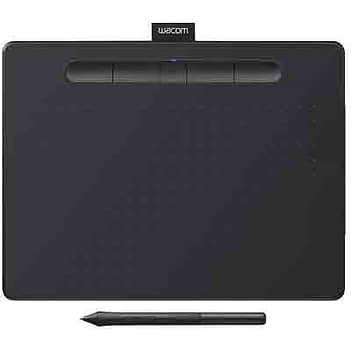 Specifications of Tech Gifts For Students under 10000 Rs
4096 pen pressure sensitivity

Battery-free pen

Electro-Magnetic Resonance technology inbuilt pen

Bluetooth connectivity version 4.2

Digital tolerance inaccuracy  +/- 0.25 mm

7mm reading height

Compatibility with Windows, and Mac

Connection USB only or USB/Bluetooth

(pen) 133 PPS Reading Speed

Item Weight 410 g
Check Price – Amazon
3. Campark X20 Action Camera
Action cameras are highly capable to record videos anywhere and mostly these cameras use as vlogging cameras and you can record videos steady while walking, running, or playing sports. definitely, it is the best option if you are looking for Tech Gifts For Students under 10000 Rs, and believe me, it is a highly recommended tool to record video of outdoor activities such as swimming, boating, surfing, water skiing, and fishing.
Featuring capable 4K(3840×2160)/30fps video and 20MP photo, the Campark sports movement camera gets all the extraordinary minutes in every scene with a little body. 2″ high affectability IPS contact screen movement gives you an unfathomable playback and sees understanding. The best tech present for young fellows goes with Electronic Image Stabilization(EIS) advancement to manage improvement, get the more consistent and smooth video and photos.
This is a waterproof camera that can waterproof up to 40 meters, This sports camera goes with two battery-fueled 1050mAh batteries. 2.4G far off distant simplifies it to record chronicles when swimming, skiing, cycling, etc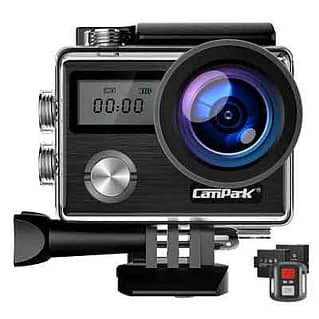 Specifications of Tech Gifts For Students under 10000 Rs
Campark X20-advanced upgraded Action Camera

2 x 1050mAh Battery included

Remote Control in the box

Waterproof Case and

Bracket included

Bicycle and Helmet Mounting Kit

Support 4K at 30fps, 2k at 30fps, 1080p at 60fps, 720p at 240fps 120fps 60fps 30fps

Video Format –

 MP4
2" inches touch IPS screen
EIS video stabilization
Micro USB and HDMI port
Gyroscope sensor for anti-shaking videos
Item weight – 567g
Check Price – Amazon
4. Huami Amazfit T-Rex Smart Watch
The best smartwatch from a big name Huami Amazfit is another option if you are looking for Tech Gifts For Students under 10000 Rs because this watch has everything included the best safety features. It helps in sports, cycling, swimming, exercising, and also get notified where are you and where you want to go because it comes with an in-built Sony GPS chip and dual-satellite positioning system.
The best smartwatch T-Rex has 5ATM rated waterproofing and 12 Military Grade Certifications so you can wear this while swimming or during monsoon. The T-Rex has comes with professional 14 built-in exercise modes and all modes you can see on an AMOLED 1.3-inch color screen that supports an all-day display. It comes with a huge 20-Day of Battery Life. It shows Smart Notifications for calling, massaging, and all other apps.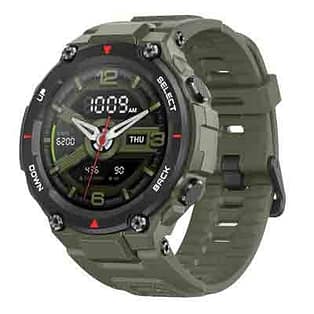 Specifications of Tech Gifts For Students under 10000 Rs
12 Military Grade Certifications

20-Day Battery Life

1.3" AMOLED Display

Built-in GPS

Notifications for calls, messages, calendars, apps

14 Sports Modes

Activity Tracking with Sleep Monitor, calories, distance, etc

5 ATM Water Resistance

Always-on Display

30 Watch Faces

Music Control
Check Price – Amazon
5. All-new Echo Dot with clock
It is a smart speaker for whatever asking and easily controllable via voice, it will be the greatest choice if you are looking for Tech Gifts For Students under 10000 Rs because it runs on the Amazon Alexa platform and Alexa is a smart platform so you can ask anything related, general knowledge, history, jokes, current affairs, and much more like weather, clock, shopping and more. Anyone can set an alarm via voice command which is necessary for students.
You can change your contraption language to English/हिन्दी by methods for the Language options inside the Device settings on the Alexa App. goes with various layers of security protection. From the mouthpiece off the catch to the ability to see and delete your voice accounts. Has a very compact design and size also an RGB ring Cercle inbuilt in this smart speaker for enhanced and cool looks.
The best smart device comes with is implicit in the cloud, so it is continually getting more intelligent. The more you use Dot, the more Alexa adjusts to your discourse patterns and vocabulary. Also, it is a very solid build that can run more years and years with smart upgrades features.
Specifications of Tech Gifts For Students under 10000 Rs
1.6" built-in speaker
3.5 mm stereo audio output
speaks in English and Hindi
Inbuilt with Bluetooth and Dual-band WiFi connectivity
LED display for the clock with light sensor
Comes with 4 microphones
microphone off button
Solid Bass and sound quality
Weight – 351.3 g
Check Price – Amazon
Final Words for Tech Gifts For Students under 10000 Rs
Listed 5 tech gift gadgets are recommended for students and others too, in this era technology makes our life easy to live and it depends on you that how to use and who is using. Definitely, these tech gift gadgets are very useful for students to learn or make fun of moments, and these are must-have technology gadgets. If you really want a great gift idea to give special student then I will recommend Huami Amazfit T-Rex Smart Watch if already have then Wacom CTL-6100WL Bluetooth Pen Tablet will be a great gift for a student.
Read Also: Best GPS Tracker for Kids Under 5000 Rs
Read Also: Best 3D Projector Under 20000 Rs