Cuisinart Coffee Grinder Review, Cuisinart Dbm-8 Supreme Grind Automatic Burr Mill, Best Coffee Grinder machine

Features of the Cuisinart Coffee Grinder DBM-8 Supreme Grind Automatic Burr Mill :
Burr Grinding Mechanism for Optimal Flavor: At the heart of the Cuisinart DBM-8 Supreme Grind lies its precision burr grinding mechanism. Unlike blade grinders that produce inconsistent results, burr grinders ensure uniform grounds, which is essential for extracting the optimum flavor from your coffee beans. This mechanism preserves the essential oils and flavors, contributing to a richer and more aromatic brew.

18-Position Grind Selector: Customization is key when it comes to coffee grinding. The Cuisinart DBM-8 offers an impressive 18-position grind selector, allowing you to choose your preferred grind size, from ultra-fine for espresso to coarser settings for French press and cold brew. This versatility empowers you to match the grind to your brewing method, ensuring a perfect cup every time.
Using the Cuisinart Coffee Grinder DBM-8 Supreme Grind:
Slide Dial for Cup Selection: This coffee grinder goes beyond the grind settings. It features a convenient slide dial that lets you choose the number of cups you intend to brew, ranging from 4 to 18 cups. This intelligent feature adjusts the grind time accordingly, ensuring you grind just the right amount of coffee beans for your desired brew size, minimizing waste.

Capacious Grounds Chamber with Lid: The Cuisinart DBM-8 isn't just about grinding efficiency—it also offers a capacious grounds chamber with a lid. This design ensures that your freshly ground coffee remains contained and free from external elements until you're ready to brew. It's a thoughtful touch that helps maintain the integrity of your coffee grounds.
Cuisinart Coffee Grinder – Performance and User Experience:
The Cuisinart DBM-8 Supreme Grind has garnered praise for its consistent grind quality and ease of use. Coffee enthusiasts appreciate its ability to produce grounds that result in flavorful and balanced brews. The burr grinding mechanism's precision and the wide range of grind settings provide users with the flexibility to experiment with various brewing methods.
Cuisinart Coffee Grinder Comparison with Other Coffee Grinders:
When comparing the Cuisinart DBM-8 to other coffee grinders on the market, its combination of features, performance, and price point stands out. While professional baristas might opt for more specialized equipment, the DBM-8 offers a compelling option for home users seeking a reliable and versatile grinder without breaking the bank.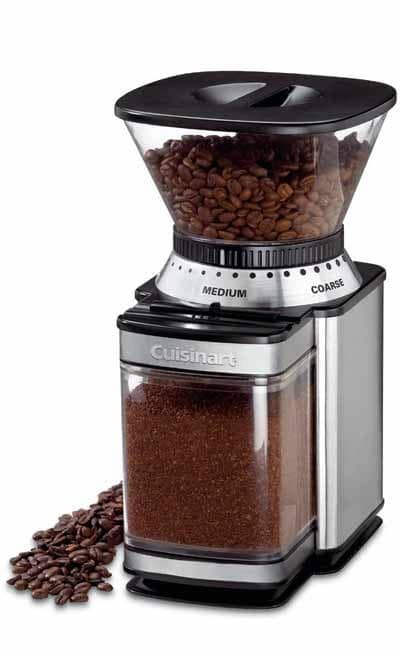 Conclusion
Elevate Your Coffee Ritual with the Cuisinart Coffee Grinder DBM-8 Supreme Grind:
In a world where every element contributes to the perfect cup, the Cuisinart DBM-8 Supreme Grind Automatic Burr Mill coffee grinder shines as an essential tool for coffee enthusiasts. Its burr grinding mechanism ensures uniform grounds, its multitude of grind settings caters to diverse brewing preferences, and its user-friendly features simplify the grinding process. Whether you're a novice or a seasoned coffee aficionado, the Cuisinart DBM-8 is a worthy investment that enhances your coffee ritual and brings out the best flavors in every cup.