If you are love to play games or typing more than an average person then, you should try Best Mechanical Keyboards Under 2000 because these provide the best clicky feeling on your fingertips. A membrane keyboard can miss some keypad after press but in mechanical switches keyboards no words or buttons can miss once, that's why advanced games and typists always prefer a mechanical gaming keyboard.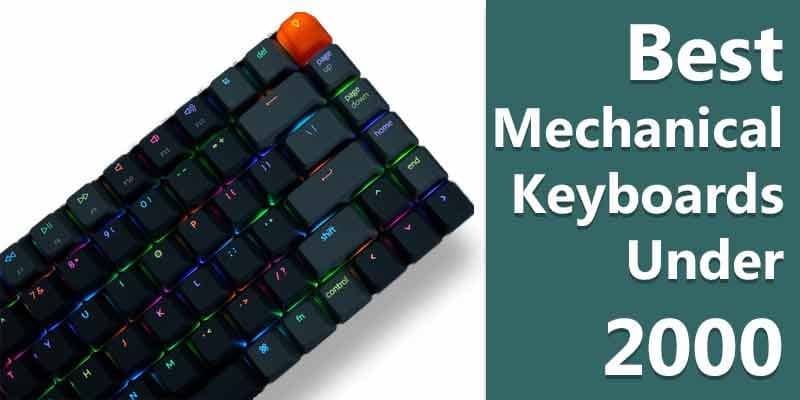 In this era, a mechanical keyboard comes under 2k but earlier these keyboards with mechanical switches cost around 5k to up to 20k. So why wait just once you should try a basic range of mechanical switches keyboards for your gaming or typing. Definitely, you would love and not use the membrane keyboards anymore.
Preferences and love both are different in meaning and why I suggest just love to play games or try typing with a mechanical keyboard you forget the normal keyboard.
All the mentioned best gaming mechanical keyboards are built with blue and Brown Outemu switches, which are basically very clicky and satisfying your gaming experience with no missing keypress technology. Now let's talk about a special feature, that these are the best keyboards with RGB lights with multiple effects. Means at the same price an RGB illuminated gaming keyboard and mechanical switches keyboard you will get from here.
List of the best mechanical keyboards under 2000
Redgear Shadow Amulet Mechanical Keyboard
This is the RGB mechanical keyboard with a rainbow LED light effect, you can increase and decrease the brightness of lights and set according to your needs. Prevent it from accidentally click on the windows button because the window key lock feature makes it an advanced keyboard that provides multi-hour playtime without any interruption. All the keys are flowing keys so gives a very nice clicky sound and provides accurate press.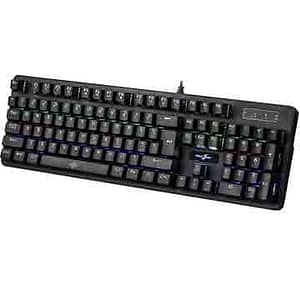 This is a full-size mechanical keyboard with functions input button of volume, play pause, brightness control, and browser. Due to its full size, it has separate numerical keys which are also lockable so you can customize the keyboard according to your needs and habits. Don't worry it comes with 26 Anti Ghosting Keys, so your gaming experience won't be ruined in any way. Just play your games without any thoughts, the build quality is just great and it fits in your small table as well.
Summary Details
Total keys 104
26 keys are anti-ghosting
Mechanical switches technology
mechanical Blue Click Switches
Rainbow LED Mode
Windows Key-Lock
Floating Key-Caps
1 year of warranty
Quantum QHM9800 Rapid Strike Wired Keyboard
The plug-and-play mechanical keyboard is for gamers and typing enthusiasts, who love to play more fast games and typing like a machine because this is a super clicky and uninterrupted pressing keyboard. When a keyboard like this you have the gaming and typing experience increases almost 75% of marine. The mechanical keyboards under 2000 come with an LED rainbow light effect with the full brightness control system.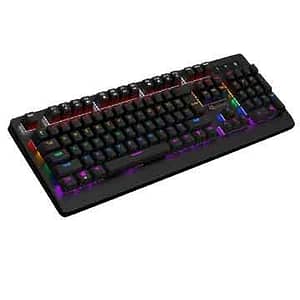 In this best budget mechanical keyboard, you will get 6 LED RGB Colours and you can adjust these effects with the help of 12 adjustable light modes. Can create a funky illuminated theme for gaming setup and also, for simple typing desktop setup just change the lights mode from funky. The best gaming keyboard comes with 1 year of warranty. The build quality and size are perfect according to the budget.
The typing machine keyboard comes with B23 blue switches, which are very clicky and designed as Tactile key bumps, which are also, made for easy to press and make your typing experience very comfortable and best of than a normal membrane keyboard.
Summary Details
Full-size keyboard
Made of robust material for long-lasting
Mechanical switches technology
B23 blue switches Switches
Rainbow LED effect
Windows Key-Lock
6 LED RGB with 12 lights mode
Floating Key-Caps
1 year of warranty
Coconut K13 Draco Mechanical Gaming Keyboard
The gamer device is a keyboard with 20 million keystrokes and a solid build, with proper slim-line design, it seems that it is made for a modern desktop setup. Coconut K13 Darco mechanical typing keyboard provides a premium experience to their users because the metal board and floating keycaps, which are easy to press and look very cool in every type of PC setup, whether that is for gaming, productivity, or normal office work.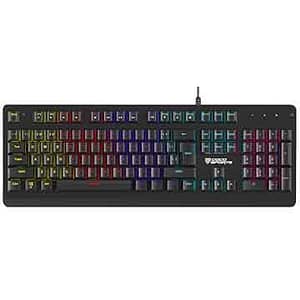 The best mechanical keyboards under 2000 have 104 total keys and these are blue switches, which are mainly known as very tactile and provide the best experience when you typing it feels like a typing machine and sounds great when you press keys. If you want to boost your gaming and article writing experience then a mechanical switches keyboard should be your choice. Also, 26 anti-ghosting keys are for gaming are inbuilt in this keyboard.
This RGB Mechanical Keyboard has 9 different lighting modes which can be customizable and change in 7 colors as breathing LEDs effects. Mainly this type of keyboard is suitable for any OS like windows, MAC OS, and Linux as well. 1 year of manufacturing warranty makes it an extra trusted device with proper customer support.
Summary Details
Full-size keyboard with numerical section
Strong build and attractive looks
Mechanical switches technology
104 Blue Switches keycaps
26 Anti-ghosting keys
Rainbow LED effect
Windows Key-Lock
9 Adjustable lighting modes
1.5M Long Braided Cable
Gold Plated USB Connector
1 year of warranty
Cosmic Byte CB-GK-13 Neon Rainbow Backlit Mechanical Keyboard
Brown Outemu Switches are well known about last longer life and this Cosmic byte gaming keyboard comes with inbuilt Brown Outemu Switches, where the 50 million keystroke life will provide you. This is the full-sized budget mechanical keyboard with 104 keys and a separate numerical section, which comes with a breaded cable with a strong USB plug connector. The build quality is very strong and 26 keycaps are anti-ghosting.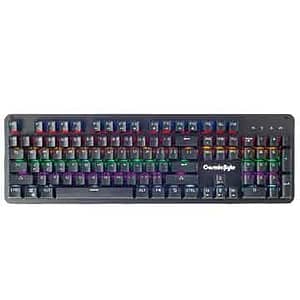 The best mechanical keyboards under 2000 come with an Aluminium Body, which makes it a little heavy but very strong, water splash-proof design with Windows Lock Keys makes it an extra advanced gaming keyboard where you can also type accurately without missing any words. Many Multimedia Keys are given in this board for controlling the volume, and operations like play pause and previous and next.
A Gaming Mode inbuilt keyboard for gamers has everything, which should be referred to as a gaming enthusiast. For your gaming setup, it has 10 Backlight Effects, which can be controllable in 3 Level of Brightness, Also you can adjust the speed of lightning effects, and has a Rainbow Backlit effect for an interesting theme.
Summary Details
Numerical section
Full-size keyboard
Strong build and attractive looks
Mechanical switches technology
104 Blue Switches keycaps
26 Anti-ghosting keys

Rainbow Backlit effect

Aluminum frame with solid anti-fading keycaps
Windows Key-Lock
10 Adjustable lighting modes
Long Braided Cable
1 year of warranty
HP GK100

best mechanical keyboards under 2000
You know this is the list of best full-sized mechanical keyboards list, and this HP GK100 comes in a full-size design with an extra numerical section with the proper lock button. The metal base comes in a single design and Double Injection Key Caps make it last longer, Also you will get windows to lock key to prevent accidental window touches while gaming and typing. These are the advanced feature which known as comfortable features.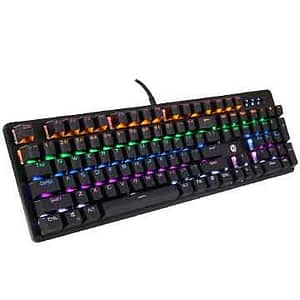 50 million times lifetime Blue mechanical switches with an advanced RGB led lighting, and a big brand name like HP make it an extra trustable mechanical budget keyboard. The best mechanical keyboard under 2000 has 3 years of warranty as well. The arc design will help your wrist while typing and long hours gaming sessions. A cool rainbow light effect and multi-adjustable LEF light effects make your gaming setup easy to handle.
FN key functions and a gaming chip build keyboard from HP is not a bad choice because you will get everything in this keyboard that suits your budget and needs. Due to high material metal and solid ABS plastic, it is very strong yet 810grams lite.
Summary Details
Full-size keyboard with numeric buttons
Strong build and attractive looks
Mechanical switches technology
104 Blue Switches keycaps
26 Anti-ghosting keys

Rainbow Backlit effect

Metal frame with dual injected keycaps
Windows Key-Lock
Multi-Adjustable lighting modes
Long Braided Cable
3 years of warranty
Listed all the Best Mechanical Keyboards Under 2000 comes in a full-size form factor and has multi-color RGB lights with multi-mode and effects with brightness and effects speed control FN input button. The best part of the full-size mechanical keyboard features yes an extra numerical keypad and multimedia control inputs also you will get in the best full size of mechanical keyboards.
Read Also: Best Mechanical Keyboards Under 3000 Rs
Read Also: Best Mechanical Gaming Keyboards under 10000
If you have any queries, just comment below and feel free to ask anything related to this article.
Thank You 🙂