If you are searching for the best foot massagers under 6000 with heat, so here you will get a calf, hand, and foot massagers in a row with proper details. The main point of foot massagers is quality and if you buy a massager from a reputed brand like Agaro, IBELL, Dr. Physio, then you will not regret your decision. When an electric product we are going to buy always thinks about a warranty, all the brands provide a warranty with their products.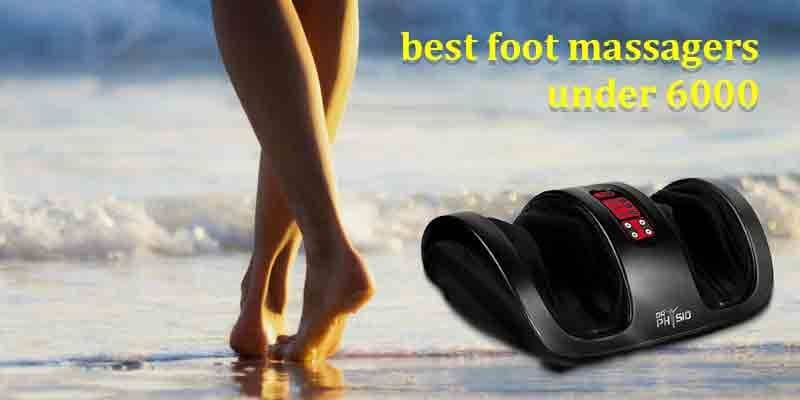 A foot massager is not a single way to use the machine, even you can take advantage of calf and hand massage benefits as well. Mainly these are made for multipurpose uses like when you have pain so they work as a heat therapy machine with a roller kind of push balls for instant pain relief. If you are a gym lover and suddenly have done excessive exercise and get pain in your hand, calf, or lower feet, this can work as a massage center and gives great pain relief therapy.
 Here is the list of Best Foot Massagers Under 6000
iBELL FTM500A Foot Massager Machine with Auto-Rollers
The foot massager is based on a bathtub design where you can take advantage of water massage therapy, temperature control, and an LCD display that helps to operate easily. The water capacity is enough and also it has great features and pre-set modes for salon class foot spa and care, the water shower with vibration massage gives you extra comfort and helps in pain.
The best foot massagers under 6000 come with a strong auto roller motorized system to improve blood circulation by acupressure. This is the all-in-one machine for men and women who want to take care of foot health and pedicure without going to a salon. It also offers bubble massage and Infrared Water heat which helps to relieve toxins and make your feet soft and natural. Other functions like timers and pre-set programs are available for different kinds of users.
This is not only a household item, but it also comes with a very comfy, and compact design with easy to handle, so you can carry it with you in outdoor relaxation. Draining pipe given for an easy to drain inside water very easily. Ibell massager has 2 years of manufacturing warranty.
Buy Now – Amazon
Dr. Physio (USA) Electric Massage Powerful Foot
It is a multifunctional deep kneading foot massager from Dr. Physio that delivers 3 types of massages shiatsu, rolling, and kneading massage with heat. This is the machine you can use for feet, hand, calf it will relieve your pain of hand and foot as well with new rolling technology it increases and improving blood circulation. So in your family, and older can best way to relax with the best foot massagers under 6000 INR.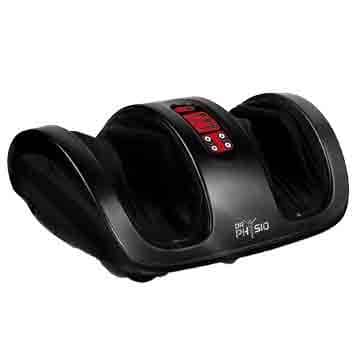 It has 4 auto modes with 3 speed and 3 directional control and auto, warm and manual control makes it an advanced level of massager so what kind of massage you need you can choose according to your parts and speed. The foot massager is equipped with a powerful yet noiseless motor and the motor is very durable and comes with copper wiring with shock and over-voltage, and overheated protections.
The ventilated fabric cover is hygienically attached and detachable so it can be used and after use, you can wash. The ventilated fabric cover makes the massager very clean and protects from dust as well. This is very lightweight up to 5.4 kg so you can carry it where you want to go in your car or private vehicle, don't take tension about build quality because it comes with a solid build with ABS plastic.
Remote control connectivity and also has button inputs for instant operations make it very easy to use and easy to handle. The brand provides a manufacturing warranty.
Buy Now – Amazon
AGARO Amaze Foot, Calf & Leg Massager
The shiatsu massager has multi-way to massage your foot and hand and improve your blood circulation and gives more relax the muscle and relief from pain. It is an automatic massager with 4 optional modes for more comfortable massages and has a Kneading & Rolling mechanism to give massage an accurate part of the muscle, which can help in making better health after gyming and running.
The best foot massagers under 6000 work with Clinically accurate Oscillometric Technology with proper clinically tested and delivers a great result. This is used for hygiene purposes as well because it has removable & Washable foot sleeves. You can adjust kneading speed and roller speed as well. The machine comes with 1 year of manufacturing warranty.
The massager machine comes with easy-to-use button controls and has all the features, which makes it very valuable for money.
Buy Now – Amazon
Lifelong LLM279 Foot Spa and Massager
This is the Lifelong Foot Spa and Massager with Automatic Rollers machine with bathtub design for shower feature and personally, I liked it most because of water foot massage technology, you can't take this type advantage in shiatsu massager machine. But every type of technology has its own advantages and disadvantages. This is the best machine who want to take foot spa with warm water because it comes with Water heating technology which provides spa and foot massage at the same time.
You can set the temperature of water by given button input panel, this has by default 35-degree temperature and increasable up to 48 degrees, which is great. Also, a timer control is inbuilt in the button panel for up to 20 minutes for more comfortable massages. The roller comes with a 4-way directional which gives accurate acupressure on every part of the muscle. The best foot massagers under 6000 have 1 year of manufacturing warranty too.
Buy Now – Amazon
A final word about these massagers with kneading and heat technology
If you love and care for your family or yourself and don't want to go to a salon for foot massage, pedicure, because many times we have to expensive services from the salon. There are fewer maintenance machines for massage and spa and easy to handle/carry massagers so you can recommend them for your older people and even elder for a better way to relax and take advantage of newer technology.
If you have any queries about the best foot massagers under 6000 then feel free to ask and comment below.
Read More: Best Body Massager Under 1500
Read Also: Best Full-Body Massager Under 1000 Rs
---